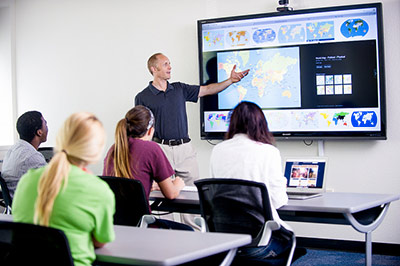 A collection of video-lessons with successful entrepreneurs ad companies' manager in the field of agribusiness. These videos will support VET students' motivation as they aim to underline the consistency between their educational pathway and the needs of the labour market.
A responsable company
Thematic area
Management of Agribusiness companies
Name of the entrepreneur
Jorge Pablo Lázaro
Name of the Company
Nerion
Economical Sector
technology
Country
Spain
Main Contents of the Video Lesson
Jorge Pablo explains the importance of being socially responsible for a business. As he says is more than a marketing matter; it is also about an environmental compromise.
Being socially responsible was a a hassard issue for them because of the red tape that they had to do. The Aragón government with the Confederation of Business, Confederation of small and medium business and the workers union made a plan for implement means of a socially responsible company. It means a series of facts and steps with a hard and rigorous protocol. But, as Jorge claims, it was worth it.
Nerion is helping now other business to be socially responsible, too. Engoa and Zaragoza Activa are two of them.
It is important for nerion helping other business to keep the talent in the city and in that way make a better city.
Knowledge
| Description | Level |
| --- | --- |
| Expert advice regarding to creation of business pages for business | Level 6 |
| What are the steps for being a social responsible companies | Level 7 |
Skills
| Description | Level |
| --- | --- |
| Social network and web pages management | Level 6 |
Competences
| Description | Level |
| --- | --- |
| Giving advice on business | Level 6 |
| Creation of web portals | Level 6 |
| Orientate a business about how to be a social responsible company | Level 6 |